A Love for Creating and Community
What began as a hobby (Justin with woodturning and Karen with machine embroidery) soon expanded and evolved into DIY classes and selling merchandise at craft shows. In the early years, you probably shopped our booth at numerous stores in Fayetteville, Lynchburg, Tullahoma, TN, or Madison, AL. You probably also shopped with us at local craft shows in Lincoln County and surrounding areas.

We realized our passion was in teaching our craft. As we combined our talents to start our DIY classes, our true vision for Two Trees was created. Fast forward 5 years...we have been blessed with our new "forever home" at The Farmhouse at Two Trees to host our DIY classes and also to display and sell the merchandise we make.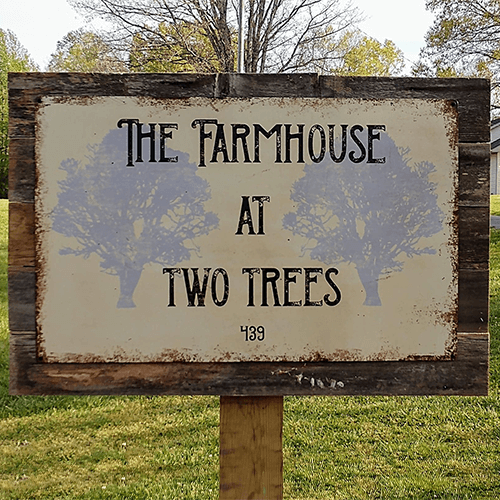 About The Farmhouse at Two Trees
"The Farmhouse" is just that. It's Justin's grandparent's farm with the house his mom grew up in. We renovated it and converted it into our new DIY studio which includes open shopping hours.

It's also the perfect location to house our annual
Hayden's Hope Craft Fair.
We started hosting this craft fair in 2021 and it was such a success that we turned it into an annual event to help raise money for the nonprofit.

We are so thankful that we are able to share our gifts and creative talents with so many people. We hope to continue to grow and expand our talents to better serve our crafters and community. Thank you for following along on our adventure!